You can receive tools to learn any language in the world
When you earn your Bachelor of Arts in Applied Linguistics from Moody Bible Institute, you gain the tools to learn any language in the world. You will develop these skills through lectures and by analyzing data from different languages. You'll meet regularly with a native speaker of a previously unknown language to master the technique of learning any tongue. Receive extensive biblical and theological training that prepares you to effectively share the gospel.
Program Plan PDF Interdisciplinary Program Plan PDF
Your Applied Linguistics Studies
As you study, you'll:
Develop a deeper appreciation for the gift of language
Practice what you're learning as you serve non-English speakers at your PCM
Discover how to analyze the structure of any language
Gain understanding of phonetics, grammar, phonology, and second language acquisition
Learn how to speak a language when you have minimal or no outside resources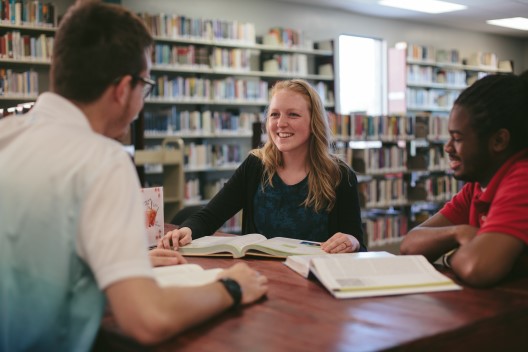 Meet your Applied Linguistics Program Head
You'll get to study with faculty who have years of linguistic experience, including professor Travis Williamson, the program head. He served as a missionary, linguist, and Bible translator in Ethiopia and brings practical experience to the classroom.
Jobs you can get with an Applied Linguistics degree
When you graduate with a BA in Applied Linguistics you'll have the practical skills necessary for a wide variety of jobs. You can:
Translate the Bible
Train people to read and write
Do language surveys
Serve across the globe in a wide range of mission roles
Get involved in local church outreach
Minister to immigrants and refugees in your communities
Graduates have also gone on to work as speech pathologists, lawyers, English teachers, military intelligence, and other careers.
Financial Aid
For on-campus residential students, every class in your degree is paid for by the Chicago Tuition Grant, sponsored by faithful donors. Every residential Chicago undergraduate student is awarded this grant, worth up to $12,960 a year. Off-campus commuter students pay $399 per credit hour. Find out how to defray the remaining costs with scholarships, grants, student loans, student employment, and veterans benefits.
Here are other programs similar to Applied Linguistics: